Solutions
Your one source for payment acceptance solutions.
TeleCheck℠ Solutions
TeleCheck protects thousands of businesses from check-related losses and fraud. We help merchants confidently accept checks from consumers safely and securely with cutting edge TeleCheck products and services.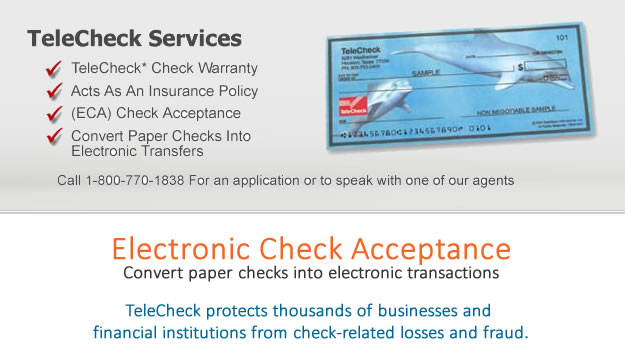 What is TeleCheck?
TeleCheck is a leading service provider of paper and electronic check services. For over 40 years, TeleCheck has helped businesses safely and efficiently accept check payments at the point-of-sale. Provided all requirements are met, the TeleCheck® warranty service guarantees that merchants will receive payment on all checks that they properly authorize through the system. TeleCheck also offers services for converting paper checks into electronic transactions (ECA). Checks by internet and more.
Clover TeleCheck Services
Clover Check Warranty Services
Clover Electronic Check Acceptance (ECA program)
Clover Check on Delivery Service
Clover Internet Check Acceptance Service