Solutions
Your one source for payment acceptance solutions.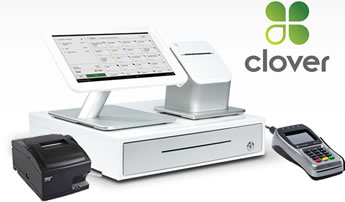 Clover™ Restaurant
The Clover™ POS system is the next generation payment system for your restaurant and we'll pre-load your menu free.
Whether you have one restaurant or several, it's a cloud-based system which enables you to see how your restaurants are doing from where ever you are, via the internet or smartphone. Track inventory, employees, revenues and generate reports
Clover Station is fully customizable and can grow as your business grows. It comes pre-installed with apps that help you run your business, but can be further enhanced with downloadable apps for the Clover App Store. Prior to ordering Clover, send us your menu and we'll import it into the system for free.
Learn More

Clover Station | Benefits
Clover Station is intuitive, easy to use and equipped with software that will improve your business. It's customizable to meet your needs so it will make an impact from day one and last for the long run.
Accept more payment types.
Simplify business management.
Increase customer loyalty.
Turn sales data into information you can use.
Manage Employees
Includes TransArmor - Protect All Data
Download Apps from the Clover App Store to expand your Clover Station
Expandable by adding more Clover Stations, Clover Mini, and/or Clover Mobile
Access anywhere, anytime.
Learn More