Solutions
Your one source for payment acceptance solutions.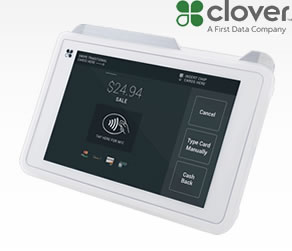 Clover Mobile™
Take Your Business Anywhere You Go
Whether you want to take payments tableside, bust register lines, or you're just generally on the go, Clover Mobile is the payments device for you.
With Clover Mobile running your business on the go is never a problem. This high-powered mobile payment device puts everything you need to manage and grow your business right in your hand.

Clover Mobile Benefits
Clover Mobile is a small powerful wireless connected on the go smart credit card terminal, which looks good too. It accepts virtually all payment types and has the ability to scale up to full point-of-sale (POS) functionality. And as you grow it can too with specialized apps from the Clover App Market. Apps that let you do everything from managing inventory and discounts to scheduling employees and tracking tables.
Accept more payment types anywhere you go, from magnetic stripe, EMV® chip, standard credit and debit cards to contactless payments, without additional equipment or software.
Simplify your business. Clover Mobile gives you the option to make running your business far less complicated and a lot more fun.
Increase customer loyalty. Set up a digital loyalty and rewards program to attract new business and keep customers coming back for more.
Turn data into information. Tap into valuable insights about your customers, what they buy and when. Clover Analytics analizes transaction data so that you can make important decisions about growing your business
Safeguard your hard work. Clover Security helps keep both you and your customers' information safe with built-in fraud protection from the Clover Security TransArmor Solution.
Access anywhere, anytime. Run your business from anywhere, on cloud-based software so you can access your information from any device.
Download Apps from the Clover App Store to expand your Clover Station
Expandable by adding Clover Stations, additional Clover Minis, and/or additional Clover Mobile devices. Or, create mini POS Stations wiht Clover Mobile and the docking station stand.
Request a Call-Back