Clover Station™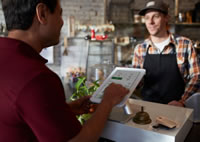 Clover Station is a complete POS system for the price of a cash register and credit card terminal. Clover Station arrives pre-loaded with everything you need to accept payments and run your business more efficiently. It's cloud-based software enables you to manage your inventory, track revenues, and generate reports—empowering you to see inside your operations, work smarter and reduce your workload.
Clover Products
Clover Marketplace:
Your Clover Station with apps is what truly sets the system apart. You can exponentially grow your system's capabilities by adding apps from the ever-expanding Clover™ App Marketplace. This incredible flexibility ensures that Clover Station can evolve with your business for years to come.
Apps are easy to install right on the home screen of your device. And, if you happen to have more than one Clover Station, apps installed on one device can sync across all of your devices in real time. Software updates are automatically delivered to your device, so you'll always have the latest version and the strongest security features.
The Clover Solution automatically tracks inventory and builds a transaction record. Customers can opt-in to loyalty programs so you can drive repeat business.

Your Clover comes installed with lots of essential tools. Customize further with an array of applications. There's even an app that puts aside tax collected, then files and pays your sales tax on-time and in full. Automatic, Effortlessly and Seamless.
The Clover web dashboard lets you remotely manage your business from any computer, smartphone, or tablet. You'll enjoy full access to your business information at any time, even when you aren't in your store(s).
Clover Solution safeguards your customer's card data with the latest in security technology—including data tokenization.
Clover product are as easy to use as your personal technology
App Marketplace
The Clover Marketplace is where you can download Apps for your POS System, which can help you grow and more easily manage your daily business functions. Here are just a few that we are featuring this month....

Perka helps you build lasting, profitable relationships with your customers, directly on their mobile phones.

Manage all of your items, categories, and modifiers in one place.

Add and manage employees for your store. Set PINs, roles, nicknames, and more.

Waitlist Me is a waitlist and reservation management application for restaurants and...

Customers use our mobile app to check in, vote on the music, and request songs from your playlist.
More Clover Apps